SPR 2010 Race Diary

GOODWOOD GRRC SPRINT – MONDAY 5TH APRIL 2010
The day started early, 5.30am to be precise. Coffee and a bacon butty were the order of the day as soon as we arrived at the circuit. Our first race day had arrived. Nerves, excitement, expectation and the sheer joy of knowing that both Brian and I would be breaking our racing virginity today.
For those who don't know the format for a sprint it consists of 2 timed practices laps from a standing start, followed by two single timed laps against the clock. Each timed lap breaks into two timed parts, the start distance which is 0-64ft, and then the full lap time. Your fastest lap counts. The skill lies in the fact that you are not dialed into the circuit, the tyres are cold and the cars fluids have not properly warmed up. In other words you have to just to go out and 'leave everything on the track'. In the case of my practices laps this was not the case with me posting a standing start lap of 120 secs while Brian was way better with 115 secs.
So to cut what could be a long story short I finished 57th and Brian finished 62nd respectively out of 94 starters. I clocked a fastest time of 111.4 secs, beating Brain's time of 113.5 secs. I had the 11th fastest 0-64ft start time of 2.45 sec, while Brian had the 12th at 2.46 sec – this was impressive! So we were quick off the line, its a shame about the other 2.4 miles 🙂 Going forward we basically need more grunt, flatter adjustable suspension, plus our cut slicks for next years event so we can get close to, or under, 100 secs which would be a deeply respectable time.
On the day it also did not help that we ran on wet tyres and not our slicks. This was due to the varying weather reports prior to the event, all of which four days before had predicted it would be wet. So this meant we lost 2 seconds a lap minimum over our rivals.
Having said all that we were really pleased with our effort. There was another Elise entered in our class who had done the sprint for the past three years, Graham's car was putting out 160bhp to our 120bhp and was running on slicks. Graham's fastest time was 106.6 sec. So we were 5 seconds adrift with a quarter less power and on the wrong tyres for the conditions. Bring on 2011.
Brian said he was not competitive, well I can safely say thats a lie. We were given a third timed lap at the end of the day (which did not count in the competition) and he set a time of 111.19 secs, and to say he was a happy bunny having beaten my best by two hundredth of a second was I believe an understatement. So we went home with honors even, which was a great way to end such a memorable day.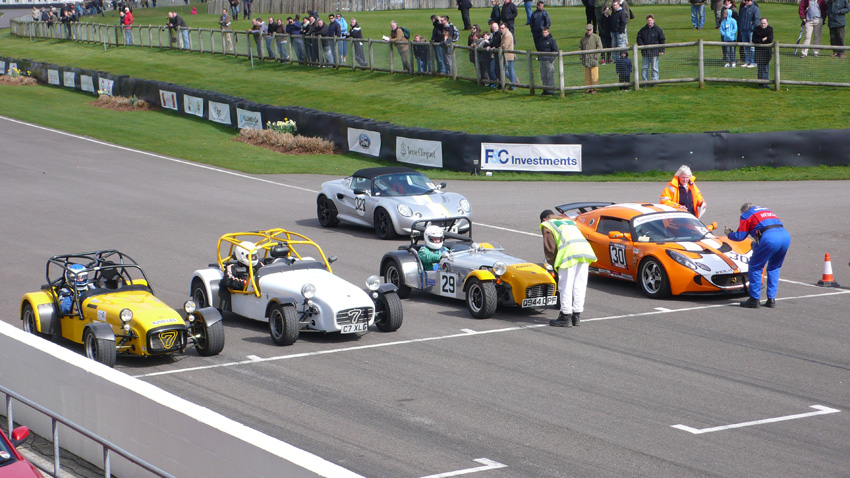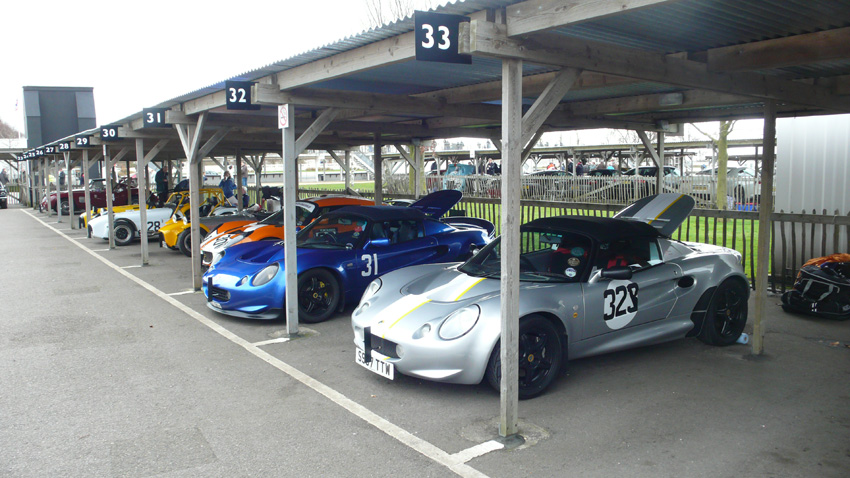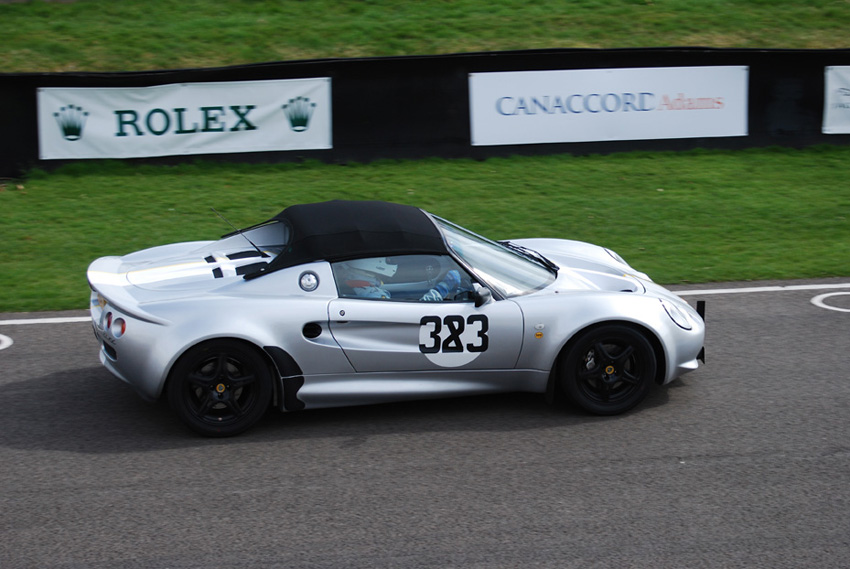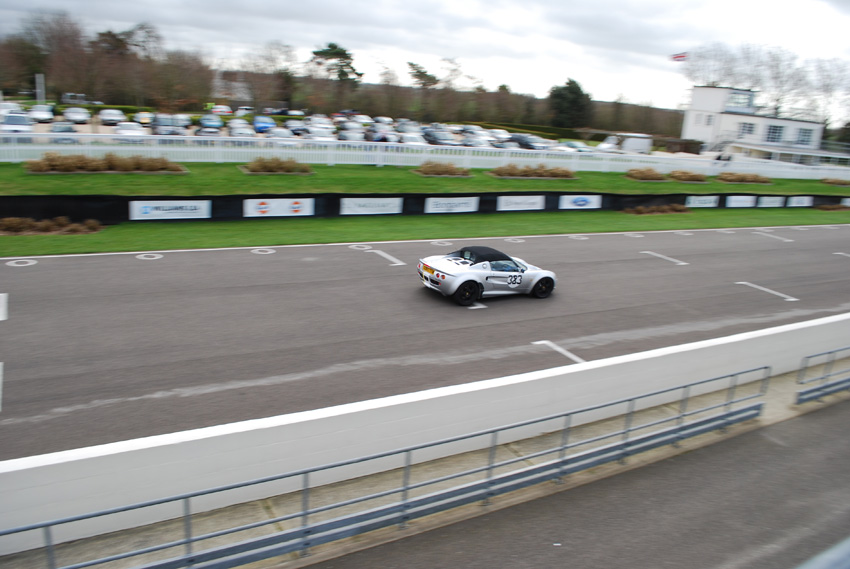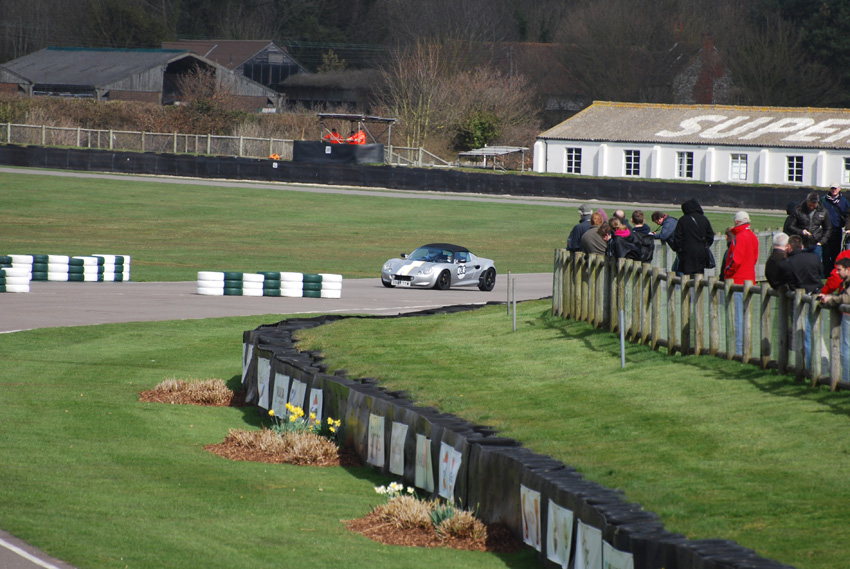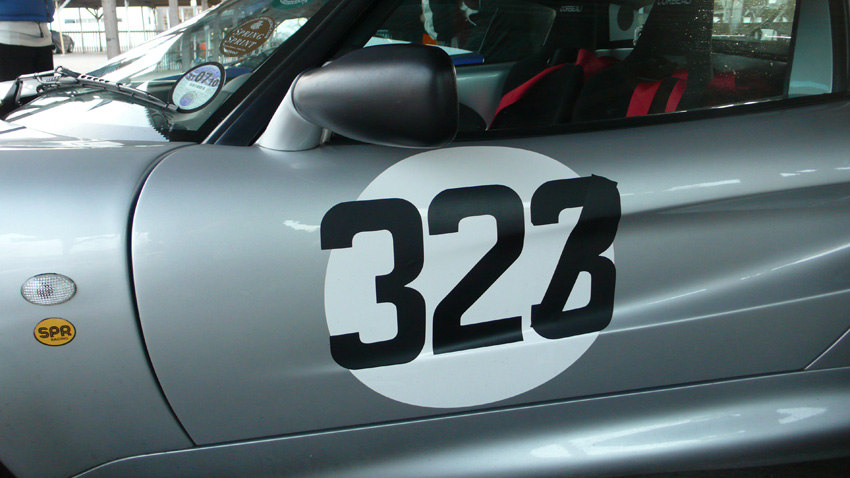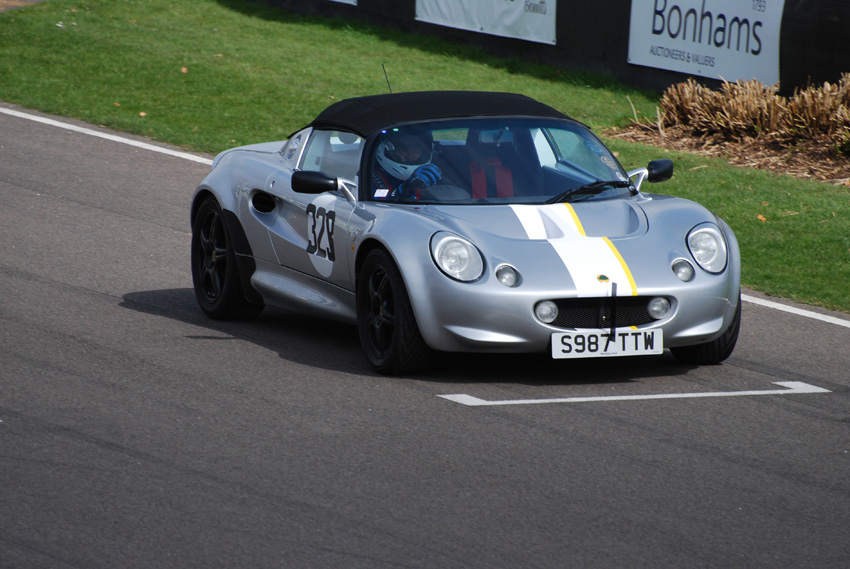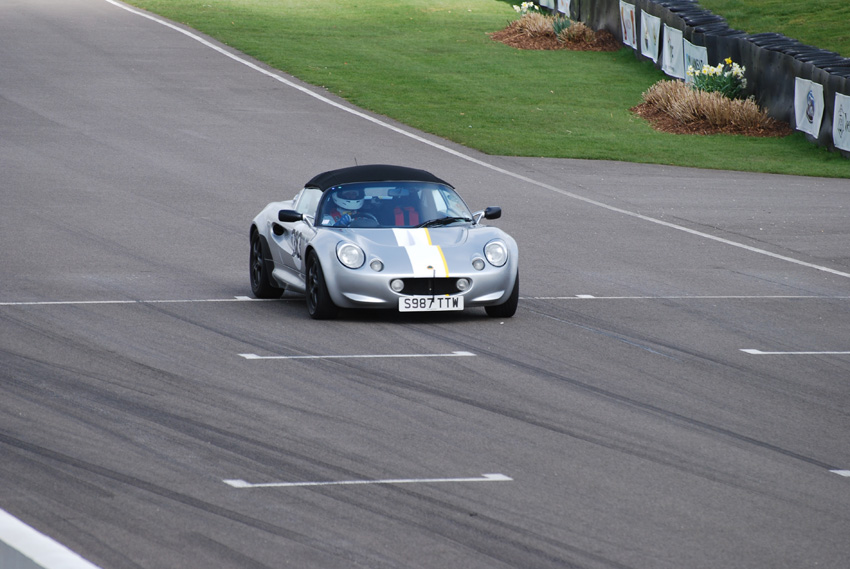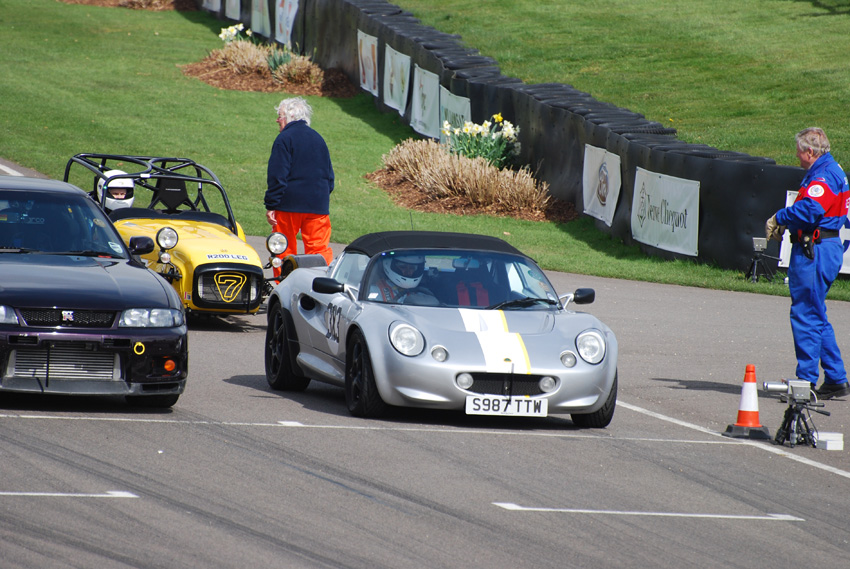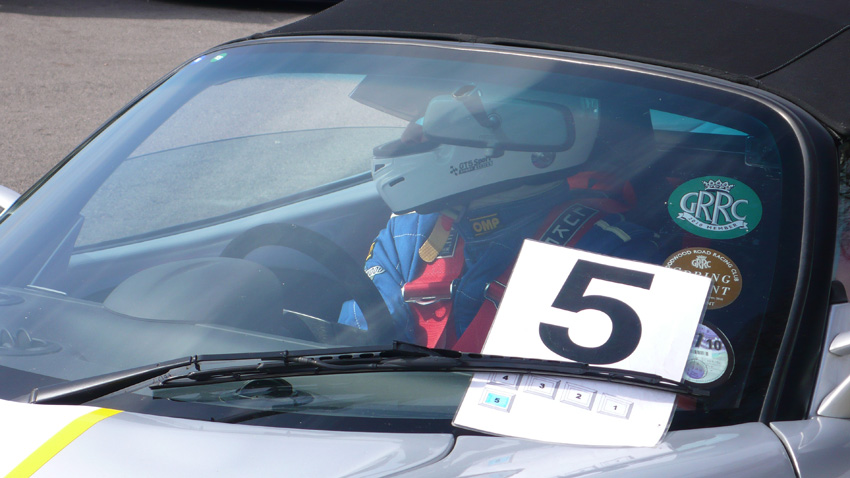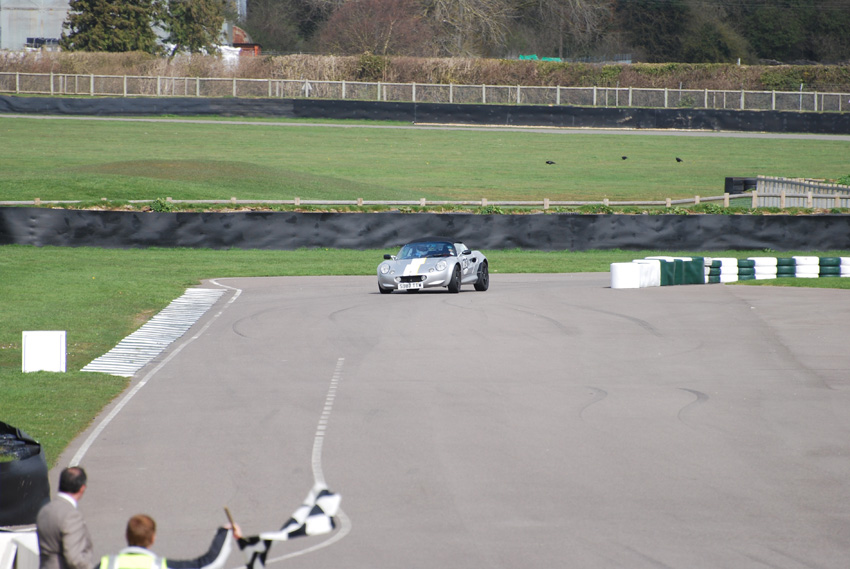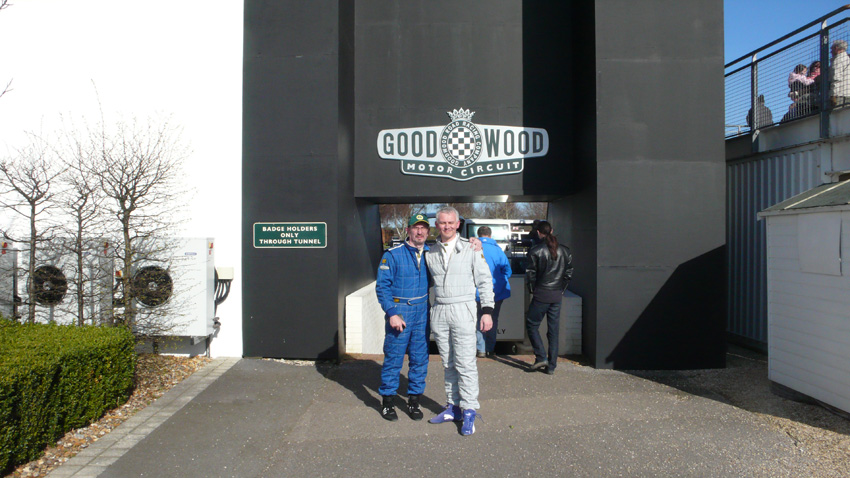 GOODWOOD GRRC SPRINT PRACTICE – MONDAY 29TH MARCH
Just got back from an interesting if damp day at the Goodwood GRRC Sprint Practice. So the good news firsts, the car started first time 🙂 The bad news was it was wet to start with, which made sessions 1 and 2 tricky particularly as we currently don't have a set of wet weather rims and tyres, just cut slicks! In fact I was back to my old trick of spinning, this time out of the chicane in session 2, my own fault, I just fed the power in a fraction too early, and with a slippery track I paid the price of a 360 and another clean pair of underpants required.
Timing was allowed but my early laps were poor at around 2.08mins, though in my defence I have never driven SPR in the wet, and in fact never driven any car on cut slicks in the wet before. As the track dried (which it never fully did before the rain came back at 12.30) so the times fell. So I feel quite pleased with myself that I ended up posting a best lap time of 1.54mins in my final session. Not sure whether that was down to driver skill, shear bravery or stupidity?
Lets hope the day of the Sprint is dry on Monday 5th April. Though having said that there will be the additional challenge of having to set times from a standing start with cold tyres and brakes, plus being on the pace immediately – oh boy. Hopefully we can get into the low 1.40's which would be respectable.
Here are a few pics: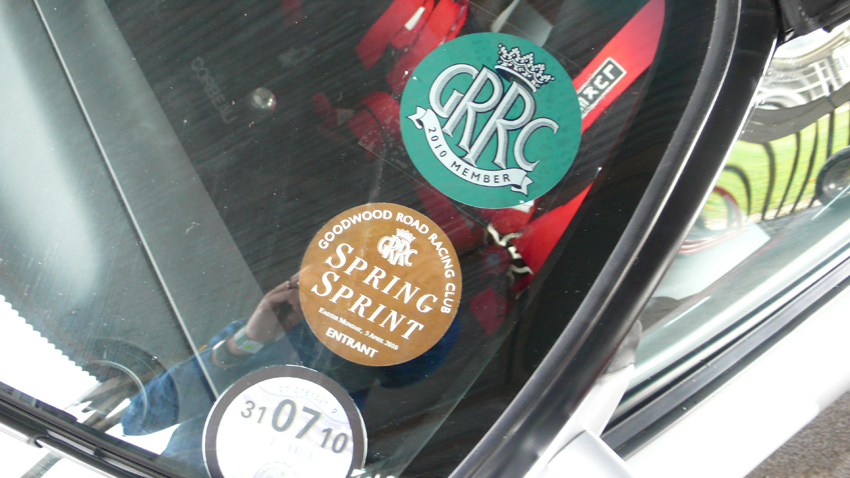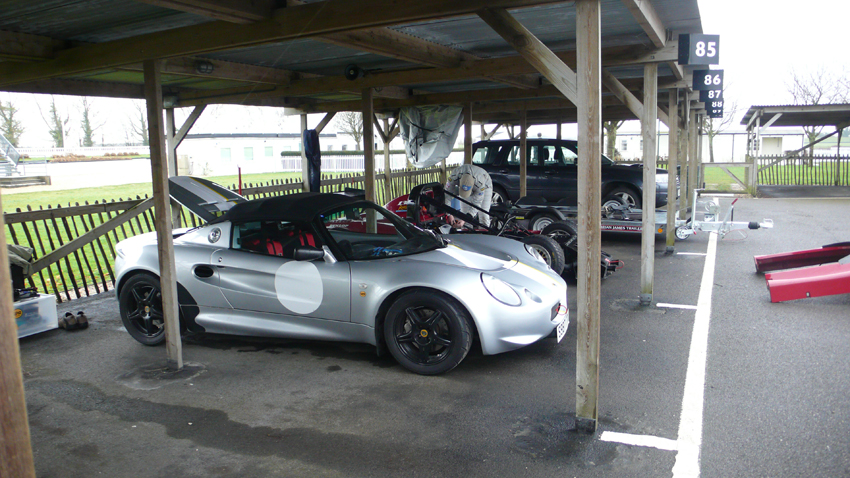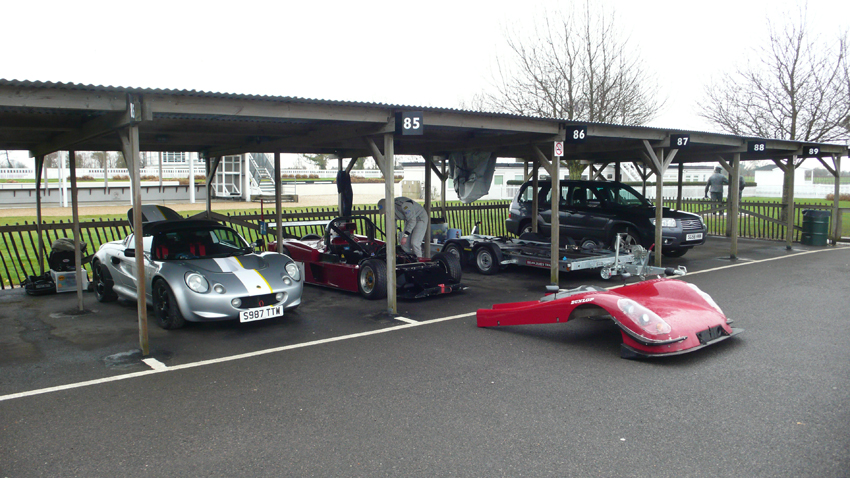 GOODWOOD – SATURDAY 13TH MARCH
Our first trackday with SPR.
Come the day, come the car –  well a car that would not start that is! Yes we went to start SPR this morning and found she had a flat battery. Unknown to me (PC) that if I left the Armtech isolation switch active overnight the battery would run out of juice 🙁
So the first flap of the day was to race down to Goodwood andsign on while the 'Back On Track' guys headed over to mine to kindly help sort the the problem – big thanks to Jez and Steffan!
We drove back having had our driver briefing and picked up the car and headed back just in time to do a sighting session before lunch. Then the fun really begun. SPR is FANTASTIC, she is one sorted track weapon. As the afternoon went on we just got faster and faster, to the point were I finally found her limit and spun her a full 360 at Lavant (flap number two of the day and a new pair of underpants – I managed to keep SPR on the circuit and we were both fine if slightly dizzy) – all very exciting but useful information for the GRRC Sprint at Goodwood at Easter. All in all a magical day and everything both Brian and I had dream't about. If this is what a mid life crises is all about then BRING IT ON!
Here are a few pics. We also plan to post some in-car video, once we have worked out how to edit it 😉