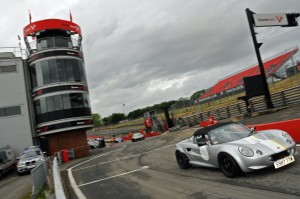 Living in a county baked by brilliant sunshine for what seemed like weeks, it was hard to believe the rain forecast for the Brands Hatch track day at a venue not more than 50 miles away … but after consideration we loaded up the Golf-mule support car with the wet tyres on the outside chance they might be required.  We left Surrey on a bright summer's morning and hit the M25, crossing into Kent around 7am, …. and an absolute monsoon.  Arriving at the circuit  we found it overcast and damp.  We also found it very, very, very busy and the facilities in the inner paddock lacking, with the Golf-mule being relegated to the outer paddock because of space constraints.
Briefing completed, we hurriedly prepped for sighting laps behind a pace car before finding some time to prepare properly for our first runs.  I drove next with PC as passenger, taking it cautiously to learn the circuit and also through a passing rain shower.  We then swapped for the next session, at the end of which we both agreed the need for some extra power to keep up with the competition!  (That's next year's upgrades planned!)
Next up were solo sessions.  Having learned the circuit, the 12.00 session allowed me to push the car further, and the GP circuit is fantastic with a huge variety of challenges – most enjoyable and rewarding.  A break for lunch and PC's solo session then preceded my most interesting moment of the day as I sought to perfect a 'backwards' racing line out of Paddock Hill bend as it drops away downhill.   I have absolutely no idea how it happened – although I have a suspicion that it involved a lack of talent – but the back of the car snapped away just past the apex of the corner and I completed at least one 360 before collecting it up and completing the lap with the car intact but pride definitely wounded.
In summary, the Brands Hatch GP circuit is fantastic – although apparently rarely used for some reason – and I'd definitely drive it again, but the logistics behind the day are more than a little trying.